By Tony Blalock, Special for WallerNews.com from TXHSFB.net
KATY — The Waller Bulldogs ended an 11-game drought that lasted all of last season and crept into the 2023 campaign with a convincing 35-0 shutout victory over Katy Mayde Creek's Rams at Legacy Stadium in Katy, Saturday night (Sept. 2, 2023).
The victory moved Waller to 1-1 on the season, and marks head coach Marcus Mendoza's first career win.
The Waller Bulldogs take the field.#txhsfb@waller_football @thewallernews pic.twitter.com/sTZg2gBS1c

— txhsfb(Tony Blalock) (@TXHSFB) September 3, 2023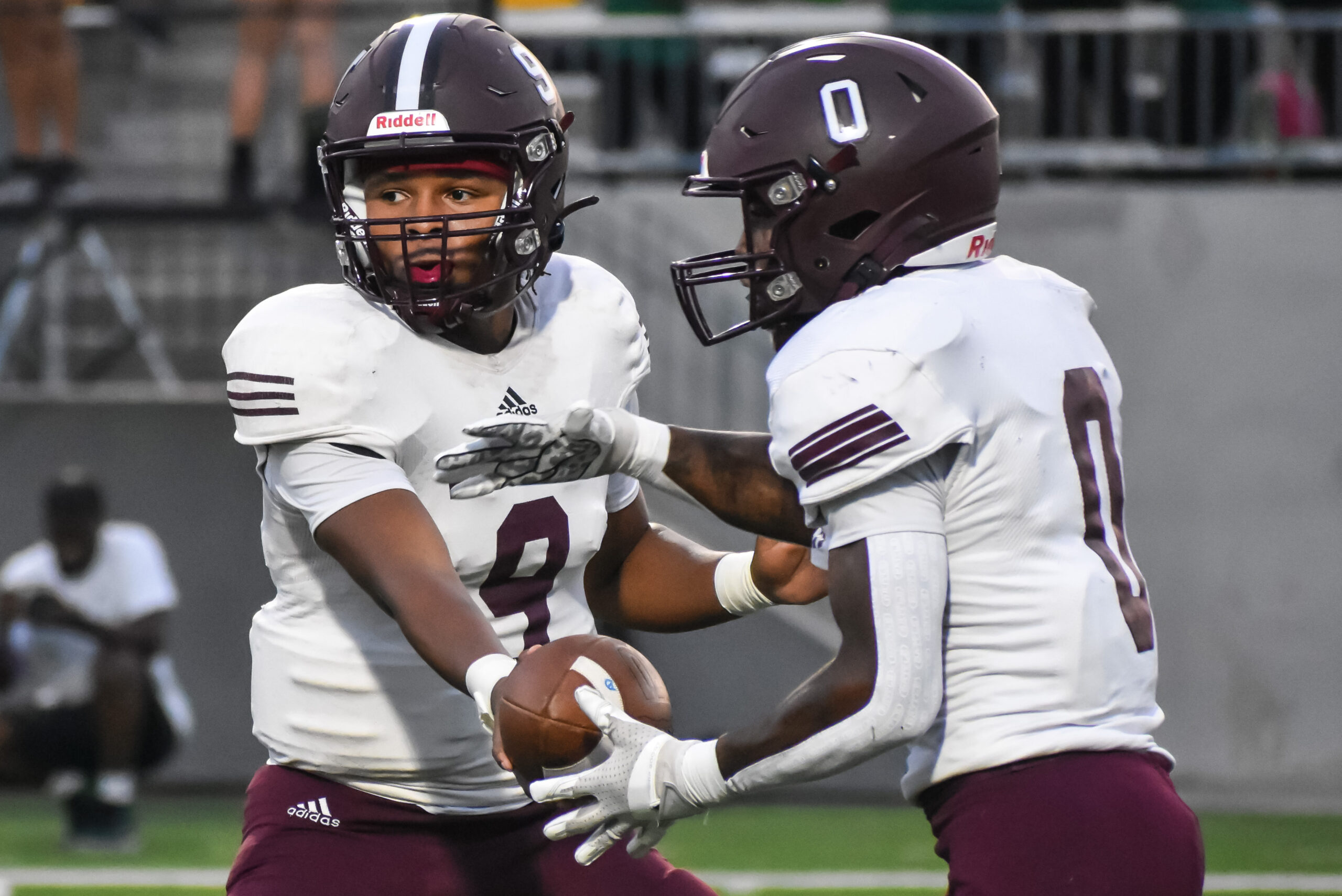 The Waller Bulldogs held a narrow 7-0 lead early in the second quarter Saturday night at Legacy Stadium in Katy when they were forced to punt. As the Mayde Creek returner yelled for the Rams to clear out and avoid the ball bouncing on the ground, Waller Senior Curtis Gooden pushed the Ram blocking him backwards and forced him to contact the ball. Senior Josh Harris recovered the ball and Bulldogs were in business at the Mayde Creek 32-yard line.
Five players later Senior Alex Barrs scored his second touchdown of the night to give the Bulldogs a 14-0 lead and they never looked back from there. Harris, Barrs and the entire Bulldog defense were named one of Waller's players of the game Monday afternoon.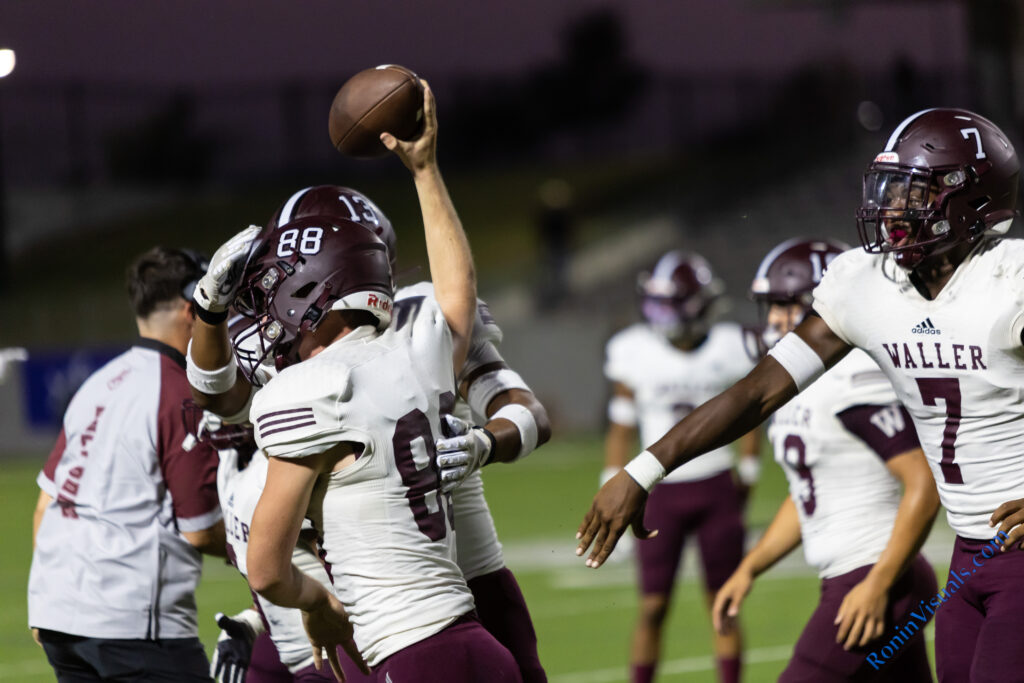 The Bulldogs opened the scoring on their first possession of the game. Facing 3rd and 16 from their own 14-yard line, Barrs juked a defender and raced down the sideline for an 83-yard run setting up his own 2-yard touchdown run two plays later.
"It was a stretch play," said Barrs. "I knew number 11 (Mayde Creek's Kosi Okpala) was going to try to make a play. I hit him with a juke move and got past him and came all the way down to the 3- or 4-yard line."
Twice the Bulldogs were forced inside their 5-yard line by Mayde Creek punts and managed to avoid disaster in those situations. Barrs said they weren't phased by the situations due to preparation. "We do it (work from inside their own 5-yard line) every day in practice. We work on that everyday so we are used to it."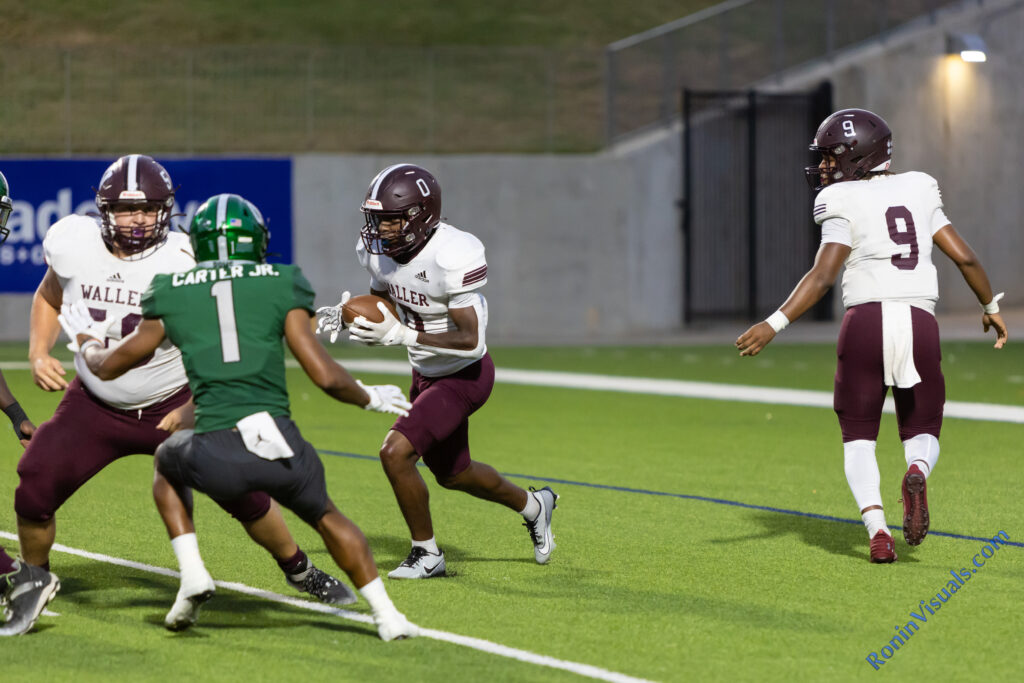 Bulldog Head Coach Marcus Mendoza gave praise to his team for keeping their cool when faced with adversity. "One of our mottos is being comfortable with being uncomfortable. In that situation, I felt like our kids were comfortable with that. They didn't freak out. It was a moment of adversity. They were able to rise to the occasion. They were able to get the ball out."
Mendoza also had high praise for his senior running back Barrs. "That guy is a DUDE! I tell a lot of (college) coaches that I reach out to and say they need to pick this kid up because he is going to be a steal anywhere he goes. He just has not been on the radar. He is one people need to starting coming and getting because he is special!"
View this post on Instagram

Early in the fourth quarter, Gooden stretched the Waller lead to 21-0 when he snared a batted pass and raced 85 yards for the pick six.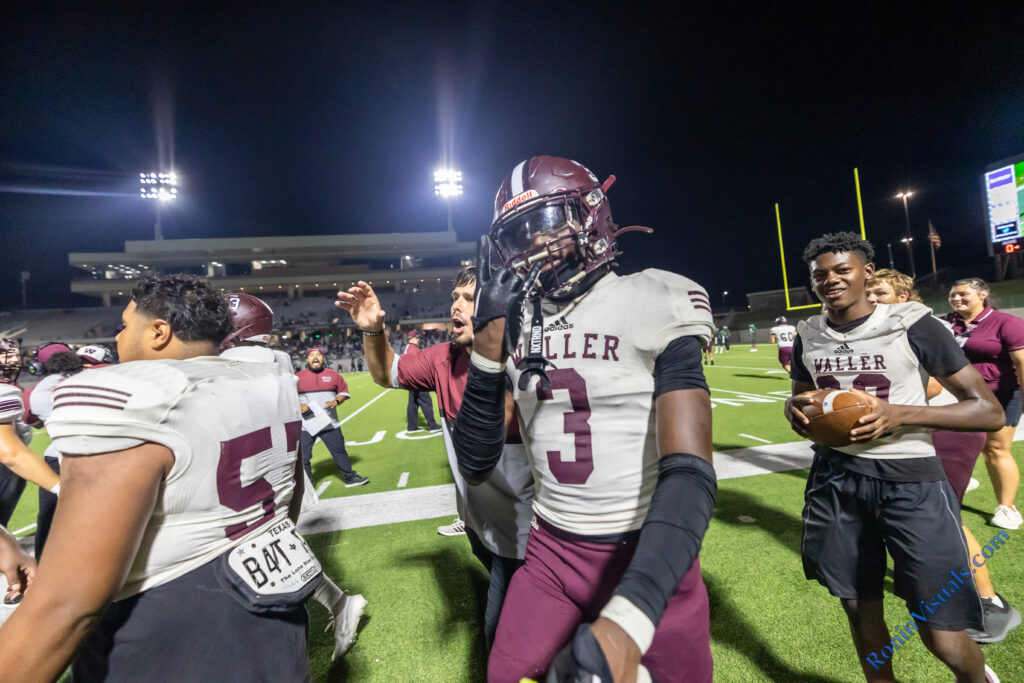 Waller would add two more fourth-quarter touchdowns, a 30-yard touchdown pass from Senior quarterback Jordan Duncan to Brandon Stewart, and then Duncan dialing his own number with a 4-yard run to make the final score 35-0 Waller.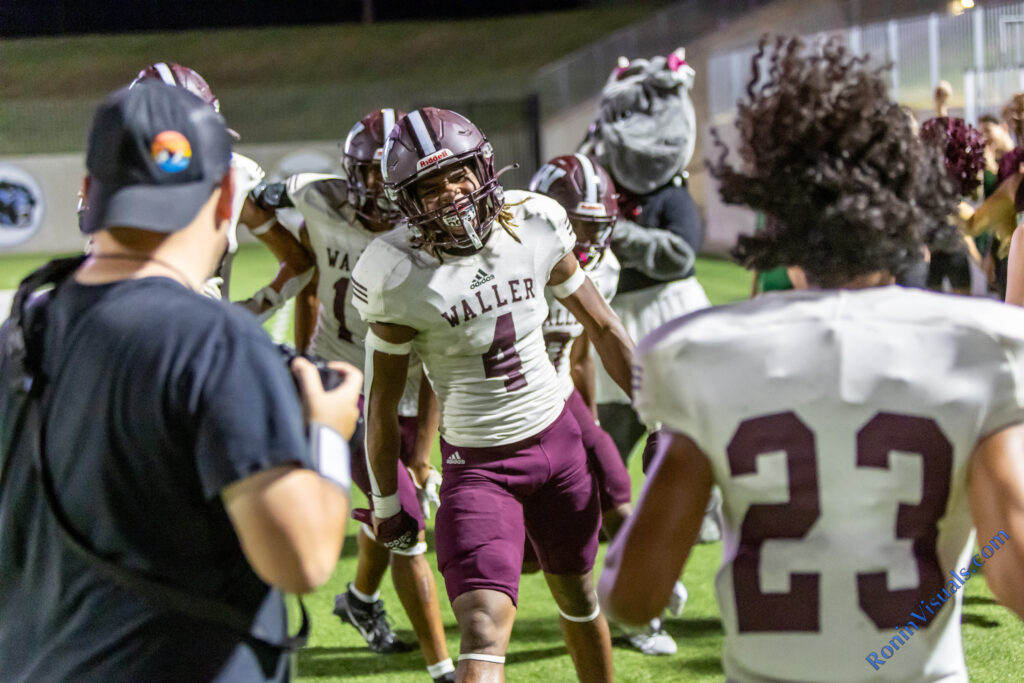 The win snapped an 11-game game loosing streak for the Bulldogs and Mendoza expressed his, and the team's, joy with the win. "I'm just so overjoyed and excited. This moment just means so much to me. It's really the hard work that we put in. This game here was honestly won in the off-season. We had a phenomenal off-season. Our kids bought into the program. Our kids wanted to do everything right and they truly bought into the off-season and I told them where it was going to show in the football game. They came in and showed how much they've come together and how much team work they really have and how they really bought into the program."
The shutout was the first for the Bulldogs since the second game of the 2021 season. "The defense played lights out. And that's all Coach (T.J.) Dillon right here. I could not have this without him. He's been with me since we first came to Waller. He stuck it out when I told him to stay. He made sure to find a way to put our kids in the best position to have success."
Defensive Coordinator Dillon praised his players for their execution during the game. "Our kids prepared the entire week so well. They knew on down and distance exactly what to look for. They practice every situation. They do call outs. They know what to look for. They were communicating very well. You could hear them on the sidelines. 'Hey wheel route… Hey look for stretch.' They were really locked in this week."
The win moves Waller to 1-1 on the season. The Bulldogs travel to Montgomery next Friday to play the Lake Creek Lions. Click here for information and directions to the game!
Editor's note: As of Wednesday, Sept. 6, 2023, the Week 3 football schedule has changed drastically! Go to this article to see all the updates times and locations! (click here)
Extreme heat reschedules Waller football week 3 games against Montgomery Lake Creek teams
Coach Mendiza addresses the Bulldogs followingvthwir 35-0 win over Mayde Creek.#txhsfb@waller_football@thewallernews pic.twitter.com/olizjqDRu7

— txhsfb(Tony Blalock) (@TXHSFB) September 3, 2023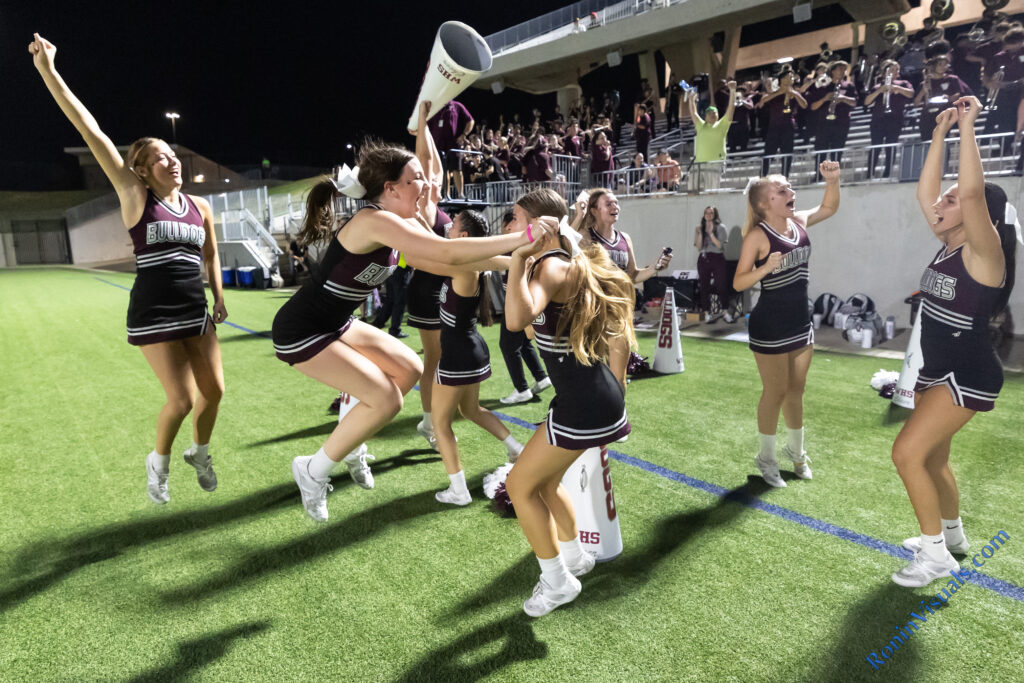 Editor's note, Sept. 6, 2023: Usual statistics from a football game are the likes of total yardage through rushing, passing, etc. But with modern technology, Waller football coaches shared that two Bulldog players — Brandon Stewart and Alex Barrs — hit foot speeds of up to 22 miles per hour.
Thank you @catapultsports for the Game Day data!
our #4, Brandon Stewart, and our #0 Alex Barrs both hit personal best in-game speed with 22 MPH! #WeAreWaller #RecruitWaller pic.twitter.com/ileJxGVnK7

— Waller Football (@waller_football) September 6, 2023