By Tony Blalock
COLLEGE STATION, TEXAS — The Waller Bulldogs appeared in the Texas State Seven-on-Seven State Championship Tournament for the first time since 2003 this past Friday and Saturday (June 23 and 24, 2023) in College Station.
On Friday afternoon the Bulldogs played three pool play games to determine seeding for Saturday's single elimination bracket play. The Bulldogs won their first game 27-21 over Weslaco, lost their second game 14-21 against Bryan and won their third game 26-25 against Midlothian Heritage. With a 2-1 record in the pool, the Bulldogs finished in a three-way tie for first but lost out on a total points scored tie breaker finishing third in the pool.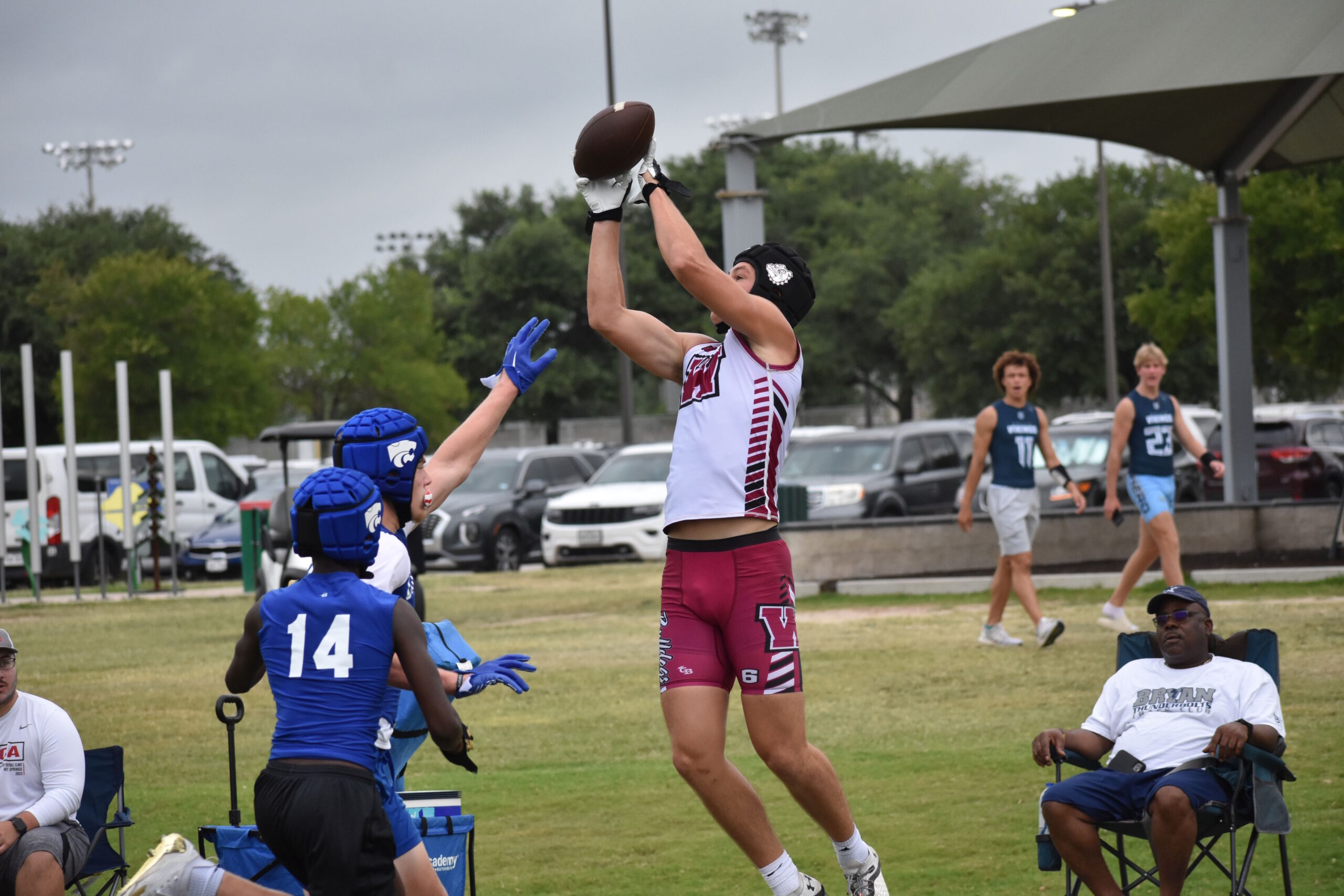 On Saturday morning the Bulldogs faced the Cy Creek Cougars in the first game of elimination play and won the game 33-7. The Bulldogs moved on to face the San Antonio Johnson Jaguars and dropped the game 8-25 being eliminated from the tournament.
Head Coach Marcus Mendoza emphasized what the Bulldog's seven-on-seven performance means to the team. "I can't even put into words how important it is for our team and our community to get here. It's been twenty years since we've been here. Playing the way we played and to get to the second round (of elimination play on Saturday) was huge for our kids and huge for our community."
Mendoza gave credit for the Bulldogs success to the hard work put in during their off-season program. "It is all due to our off-season. We probably have had one of the best off-seasons I have had in my eleven years of coaching. Our kids really bought in to the things we are teaching them. They changed their mindset. All we ask is to do your best. We've had more kids come after school and do the extra work in open weight room than ever before."
Quarterback Jordan Duncan believes the Bulldogs' success will carry over to the fall. "It definitely felt good to be here. We haven't done this is 20 years. I know we are going to look good in the fall."
Cornerback Kendrick Livingston echoed the sentiment. "Being that we are newcomers in our district, we have always been underdogs. We worked hard to be here. Putting on the pads will make us want to work even harder."
Mendoza believes the Bulldogs are going to be a much-improved team in the fall. "I keep telling our kids and everyone in our community and I've been posting all over social media – we are coming. This is not the same team we were last year. This is not the same team we've been in the last couple of years. There is something special about this group and everything that we've done in the offseason, buying into the program and that expectation that we are going to make it to State. Now we are going to prove something that people don't think we are going to be able to do. Just like did here in seven-on-seven, we are going to roll it over into the fall when we put on shoulder pads. It is going to be a very different exciting team to watch."
The Texas State Seven-on-Seven Tournament occurs annually in College Station. Teams from around the state compete in qualifying tournaments throughout April, May and early June to determine the teams that will compete for the state title. 6A and 5A teams participate in Division I. the Bulldog qualified at a SQT (State Qualifying Tournament) held at The Woodlands® High School in May.
The Bulldogs open their 2023 regular season Friday, August 25th hosting the Bryan Vikings.